Residential Assisted Living Homes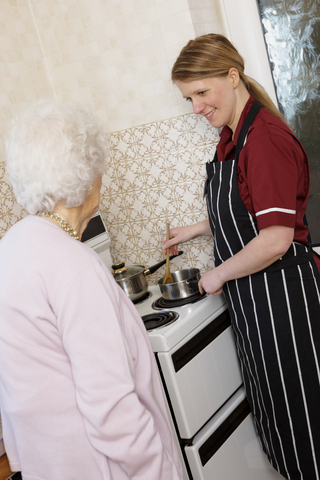 Residential assisted living homes are private residences that have been converted to care for the elderly who may need some help with certain activities of daily living (ADL's) but need less help than offered in a full time nursing home. An ideal candidate is someone who can generally take care of themselves with eating, bathing, dressing and using the bathroom but perhaps needs some supervision and assistance. Some homes may care for those with dementia or Alzheimer's. State laws vary but residential assisted living homes are generally licensed and should be run a licensed administrator.
They offer a group living situation with private or shared bedrooms and shared living spaces throughout the rest of the house including kitchen and living room etc. These homes are usually located in residential neighborhoods.
24-Hour Supervision by Healthcare worker
Prescription Supervision and Reminders
Healthcare Management and Monitoring
Help with Activities of Daily Living (Degree of help varies on home)
Cook and Serve Meals, Snacks
Provide Rides to Doctor and some Transportation
Recreation activities such as walks, gardening, crafts, Wii video gaming
The costs can range from 1500.00 for simple board and care homes to over 5,000.00 per month for homes offering more services.
For more information call facilities below:
Assisted Living Federation of America
11200 Waples Mill Road, Suite 150
Fairfax, VA 22030
(703) 691-8100
www.alfa.org or email [email protected]
Consumer Consortium on Assisted Living
2342 Oak St.
Falls Church, VA 22046
(703) 533-8121
http://www.ccal.org
National Center for Assisted Living
201 L St., NW
Washington, DC 20005
(202) 842-4444
http://www.ncal.org/consumer/index.cfm
American Association of Homes and Services for the Aging
2519 Connecticut Ave., NW
Washington, DC 20008-1520
(202) 783-2242
http://www.aahsa.org
The American Seniors Housing Association
5100 Wisconsin Ave., NW
Suite 307
Washington, DC 20016
(202) 237-0900
http://www.seniorshousing.org